Shade canopy
Assembly: It is worth choosing a kit for assembly when buying Roman Blind. Kits are available in three options: for metal, wood or wall.
The Roman Blind is a great solution for people who value a pleasant, shaded atmosphere on their terrace. In addition to its functionality the Roman Blind is also a beautiful decoration in your garden. Roller blind can be simply washed in washing machine.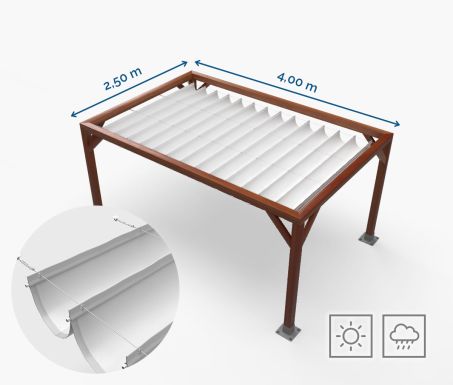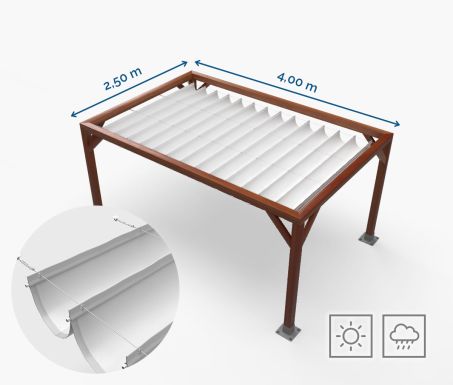 Pergola Canopy Premium - 250x400 cm - waterproof - white
You will receive: a waterproof horizontal Roman Blind with a size of 250 x 400 cm in white color
Dimensions: 250 x 400
Material: Decor Premium 200 g (Polyester 100%) - material protects against little rain and sun
The Roman Blind has 25 cm frills hanging on the sides
Horizontal seams with tunnels are every 50 cm - construction tubes are inserted into these places. Mounting tubes are not included.
The Roman Blind has handles at the beginning and end that enables it to be comfortably extended and closed
Build Your Project
We found other products you might like!
Montage: Beim Kauf lohnt es sich, einen Bausatz für die Montage zu wählen. Auf unserer Website sind sie in drei Varianten erhältlich: für Metall, Holz oder Mauerwerk..
Die Faltmarkise ist ein hervorragender Schutz vor der sengenden Sonne, sie vermittelt ein angenehmes Kühlgefühl und schützt gleichzeitig vor UV-Strahlen. Die Markise lässt sich je nach Wetterlage auf- und abrollen. Neben ihren Funktionen ist die Faltmarkise auch ein schöner Schmuck in Ihrem Garten. Ein weiterer Vorteil der Markise ist, dass sie bei Verschmutzung in einer automatischen Waschmaschine gewaschen werden kann.